Wedding Flowers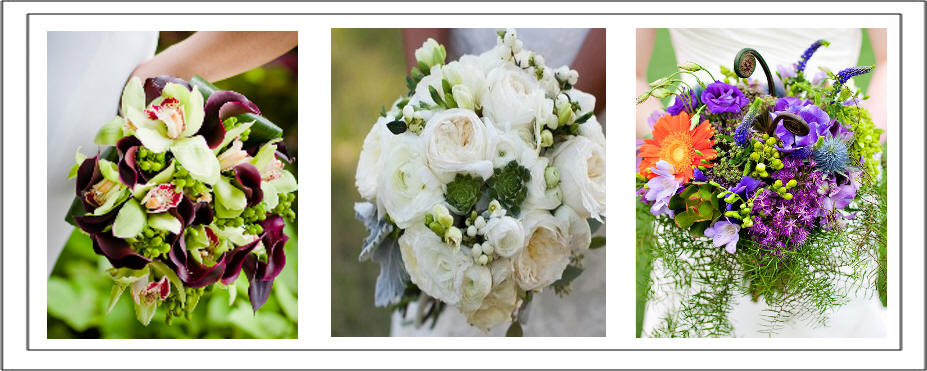 Time stands still color, design, texture, scent and season. The flowers for your wedding day say so much about you, your celebration, your personal style, and so much more…
Wedding flowers play a starring role in a day that will be remembered for the rest of your lives. Your floral décor is one of the most important elements of your wedding; setting the mood and tone that will be reminisced about for years to come. They are all about creating a WOW factor for you and your guests.
Our design philosophy covers the spectrum from simple and elegant to whimsical or modern and edgy. We offer an initial complimentary consultation guiding you through the most important aspects of planning your floral décor. Our consultations are by appointment only, to ensure that your time spent with us is completely dedicated to you and your special day. We ask that you are on time for your appointment and we extend a 15 minute grace period for booked appointments; beyond the grace period the initial free consultation is considered cancelled. Prior to booking an appointment please consider what type of theme and feel you wish to evoke on this special day.
We ask you to come prepared to the consult with the following information:
Photos of wedding gown, bridesmaids/ flower girls gowns and fabric swatches.

Knowledge of what the groom and groomsmen will be wearing.

Photos of flowers or designs that inspire you. It can be books or magazines etc.

Your floral budget - flower selection, style and the scope of the wedding pieces are dictated by your budget. This is an item we can't stress enough must be something as a couple you have discussed and are ready to provide us with what your budget is or budget range at your consultation. Without a budget we are unable to create a floral plan.

The look of your invitation

The names and addresses of your wedding venues and contacts at venues

Please have a list prepared of all of your floral needs before your consultation. This includes all flowers required for the wedding party, ceremony, and reception site.
We encourage you to bring someone with you who will help in the decision making process. Please keep in mind that to make this first consultation as productive as possible, we ask that you limit yourself to one additional guest.
At The Chocolate Tulip, we understand that your journey to your wedding day is just as important as having a wedding day that fulfills your vision and dreams. With that in mind the process begins by sitting down with us and allowing you to take your time to go through your vision of your day. At THE CHOCOLATE TULIP we do not provide online quotes/ estimates or concepts. Our policy is to meet with you first where we will discuss your exact requirements in detail, get a sense of your needs, style and your budget to form a creative brief. Following our consultation a brief will be emailed to you outlining the flower selection that was discussed at your initial consult. This is the time for you as a couple to review your brief and consider your options in selection, pieces and style.
The next step in the process would be based on your selections. A detailed proposal outlining price points, selection and pieces will be prepared for you. Due to the time that is required by both us and our suppliers to prepare a detailed price quote, there is a charge for this service. Should you select THE CHOCOLATE TULIP as your wedding florist this amount will serve as a credit towards your wedding order. (Proposals are effective for one month after the consultation date. After one month the proposal is void any deposits placed to hold a wedding date are non-refundable) Pricing is custom created depending on each individual event; location, theme, materials, color scheme and budget are details that are considered. The flowers for your special day are specifically selected and custom designed to reflect your style and personality.
We understand that you might need general idea about our pricing. If you have an overall budget established for your wedding, you should plan on spending about 15%-20% on your flowers. In order to give each bride our full attention we book minimal weddings per weekend, our calendar fills quickly. For this reason, we request a 50% non-refundable deposit to book your date. We remind you that we do not provide quotes , suggestions of flowers/ themes etc online and/or without consultation in the studio.
All dates are reserved on a first come first booked basis. Three weeks prior to your wedding we will schedule a meeting where we will go over the details and logistics of your wedding day also to make any adjustments to your order. We hope this answers some of your basic questions regarding our design services.
At THE CHOCOLATE TULIP as Toronto's premiere florist we understand that your wedding and bridal flowers must be nothing short of perfect. Contact us to organize a consultation and be confident you will have only the very best on your special day.
to Start Planning for 2018
or Call 416.921.5559