Chocolate, Chocolate, Chocolate
"All you need is love. But a little chocolate now and then doesn't hurt. "~ Charles M. Shulz
There are few things in life that bring as much pleasure to as many people as chocolate. Every day there comes a point where the craving hits us and we not only have to, but need to have to have a taste. Satisfying a craving is one thing, but taking a moment to enjoy an extraordinary gourmet chocolate is an experience you will not soon forget.

We are pleased to announce the launching of a new product line at the Chocolate Tulip, Michel Cluizel Chocolates. Based in France in the south of Normandy and founded in 1948, Michel Cluizel remain a family business and are one the largest independent producers of fine chocolate from the bean to the finished bar. Cluizel have connections with plantations all around the world, including Sumatra, Venezuela, Ghana, Java, and the Ivory Coast. From these they blend the chocolate used in their bars and confections. We are please to be able to present them to Toronto Chocolate Lovers.
Michel Cluizel is a stout defender of quality chocolate, declining to use soya lecithin in their chocolate and recently launched their 'Ingrédients Noble' label to highlight the quality of cocoa, sugar and vanilla used. From Descendant Dark Chocolate Bars, to sumptuous truffles, to chocolate covered cocoa beans, to Pralines and much much more, who can resist true artistry in chocolate?
Some of the currently available Chocolates are:
Le Plantation Tasting Box. - A Michel Cluizel chocolate tasting experience in a sophisticated presentation box. A beautifully presented collection of milk and dark chocolate tasting discs with varying cocoa contents An interesting opportunity to discover your own preferred single origin chocolates. Will it be Santo Domingo, Venezuela, São Tome, Madagascar or Papua New Guinea. Each with subtle, yet intense differences in flavor & aroma. 140g

Code 170735 48.00

Plantation Transparent Box - Chocolates from Les 1ers Crus de Plantation are single estate chocolates, each made from cacao beans from a different plantation in very different geographic regions. Taste, enjoy, and compare their distinct characteristics as you would great wine A booklet describing the characteristics of each chocolate is included.

Code 170710 25.00

Sardines en Chocolate au Lait - Even the finest of Chocolates can have a sense of humour. These five milk chocolate sardines have an element of fun while being made from the highest quality of ingredients you have come to expect from Michel Cluizel. The perfect gift for the milk chocolate lover with a sense of humour. 75g

Code 170860 $25.00

Amandes au Chaudron - These very special award wining dark chocolate coated almonds, are the finest caramelized almonds made in the traditional way, roasted over an open flame in copper cauldrons with caramelized cane sugar. Finally enrobed in a rich, 60% cocoa, dark chocolate. A beautifully sweet toasted flavour is what makes these almonds so very special. And of course the pure ingredients Michel Cluizel uses to create them, such as cane sugar and Bourbon vanilla. 150g

Code 170755 $31.00 -

Another option to tickle the senses is to purchase a collection of 30g chocolate bars representing four of the most popular tastes. Included in this gift selection is the Noir Infini 99% bar - known to bring out the hidden flavours of red wine. This presentation gift is perfect for a thank you gift.

Code 170601 $26.00

Or ask us to upsize to a mix of Four 70G bars for $46.00 Code 1706522

How about trying the high cocoa content 70 to 100 g from Michel Cluizel, or one of his Plantation bars including:

Grand Lait 45%

This award winning bar has an exceptional cocoa content. With its ample, generous milk chocolate it reveals refined, charming notes of caramel.


Code 170546 $11.50

Code 1705463 30 g bar $6.00

99% Dark Chocolate

For the experienced chocolate lover, this exceptional chocolate reveals deep and dense notes from a unique blend of the best cocoas of South America, Central Africa and Java

Code 170565 $16.00

Code 1705653 - 30 g bar $9.50

Grand Noir 85%

Blended by Michel Cluizel from fine flavour cocoa beans from central America, Africa and Java.The except-ional strength of this chocolate frees the intense aromas, lingering long on the palate


Code 170521 $11.50

Code 1705213 30 g bar $6.00

Eclats de caramel

The delicately salted, enthusiastically crunchy fine butter of its caramel delights the palate with a final twist of creamy chocolate

Code 170596 $13.50

Grand Lait Noisettes

The Italian Hazelnuts are slowly roasted and delicately ground allowing their unique and subtle aroma to infuse the chunky, crunchy milk chocolate.

Code 170550 $13.50

66% Plantation Mokaya Organic

This dark organic Chocolate from the region of Chiapas has combined notes of cocoa beans with fruites for a powerful complex flavour.

Code 170560 $11.50

Mangaro - Madagascar

Available in both milk and dark chocolate. Located on the island of Madagascar this land flourishes on the space of former mango trees. The beans of these cocoa trees develop a highly flavoured chocolate, blending aromas of exotic fruits, delicious flavours of honey spice cake and acidulated hints of citrus fruits.

65% Dark Chocolate

Code 170461 $11.50

Code 1704613 30 g Bar $6.50

50% Milk Chocolate

Code 1704600 $11.50

Maralumi - Papouasie

Yet another award winning bar from the island of Papua - New Guinea off the coast of Australia. These refined beans produces a mellow chocolate slightly roasted and full of spicy flavours with notes of bananas prolonged by charming aromas of Havana tobacco leaves

64% Dark chocolate

Code 170464 $11.50

47% Milk

Code 17046400 $11.50
Villa Gracinda

From the birthplace of African Cocoa in the 19th Century the island of Sao Tome lies on the equator of Central Africa. The cocoa is grown in a marine climate on luxurious volcanic soil and exclusively sundried. This 67% dark chocolate combines toasted spicy herbaceous notes.

Code 1703500 $12.00

Grand Lait Speculoos

An incredible combination of crunchy cinnamon & ginger this bar perfectly recreates the flavour and texture of the classic recipe Speculoos recipe working perfectly with the 45% milk chocolate to create a lingering memory long after the chocolate has melted.

Code 1703501 $13.50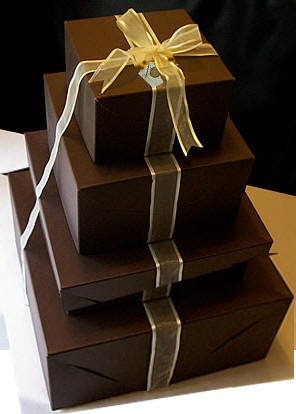 Gift Program
From custom designed urban botanicals, to fresh floral arrangements to custom made gift baskets, our priority is to ensure that your clients and gift recipients receive the royal treatment. We believe each client is unique. Rather than pre-packaging, we will create something tailor made for your A list client that will delight them and add that individual touch.

Luxurious baskets, from chocolate and cookies, to gourmet delights, there is no limit when it comes to our creativity! Baskets filled with flat breads, cheeses and pâté or pasta delight baskets with olive oil, sundried tomatoes and much more.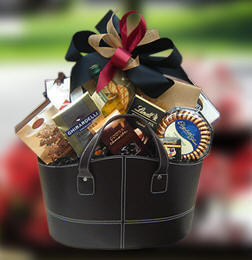 All our gift baskets are custom designed specifically for our clients, no assembly line baskets here, but luxurious and elegant gifts given to enhance your company image, give thanks to a client or show appreciation for a job well done. For Gift Baskets please note orders must be placed two days in advance. Thank you.

---
As an eco-focused and socially responsible studio, we offer unique artistic floral designs, living botanical arrangements and a wonderful selection of premier chocolates for delivery or pickup.3
info.at.thechocolatetulip.com 1251 YONGE ST. TORONTO ONTARIO M4T 1W6 TEL 416 921-5559
Delivery & Order | | Contact & Hours | Order | Privacy Policy
Florist Toronto, Flowers and Chocolates, Gifts
Copyright © 2018 The Chocolate Tulip Floral Design Studio Toronto All rights reserved