Principles of Design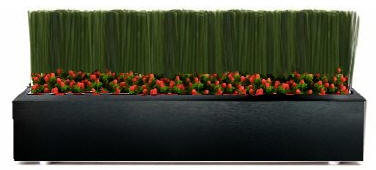 Principle of Repetition in Design
The way a piece is composed is about the way elements are combined to guide your eyes through the work envisioned by an artist- in other words the composition of the piece.
Composition is governed by the principles of design serving as building blocks to create a work of art. There are seven elements involved in the Principle of Design. These include: Balance, Contrast, Gradation, Harmony, Dominance, Unity and Repetition. These elements combine in a work with some aspects playing a dominant role and others a peripheral role in the composition.
One of the most striking principles to work with in flower design as a dominant feature is the principle of repetition which can bring a sense of clarity and unity. Repetition is in simple terms the reusing of the same element throughout the design. It can be as simple as using a single flower, vessel, or object over and over. It can be minimalist in design yet creating a bold statement at the same time.
The key to this concept is placement of the object. Group like items together in threes or fours or more keeping the same shape together and repeating the groupings for a larger scale impact. By doing so a balance is achieved that is both harmonious uncluttered and clear.
It can be as elementary as three identical plants in planters or repeated elements in line form. The consistency and clarity of the repeat is what will speak to the visual impact of the piece or design. The medium one can use is endless so have and experiment with repetition and see what visual fiesta you can create!