4 the love of plants
No home or office is complete without healthy plants for colour and style. Choosing a plant for the home or office is as important as choosing a piece of furniture. It is an integral part of dressing the space to complete the finished look. Whether it is a small cactus for the bathroom, an orchid for the bedroom or a large palm for the office, we can help you decide between the many varieties of plants available. They are all planted into carefully chosen containers, ready to transport into your own home or office.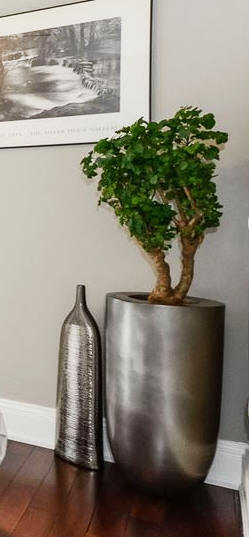 In the OFFICE ~ The Chocolate Tulip also supplies and installs offices, restaurants and reception spaces with contemporary planting within Toronto

Most businesses believe that plants are an integral part of selling the environment and are prepared to allocate the space and resources to accommodate them. The bonus is there are other benefits to our green friends than just beautifying your space.
For centuries the Chinese have used houseplants to create "living energy" in their homes and workplaces Did you know that they are also good for you? Plants provide cleaner air, absorb toxins and dust, help to reduce noise pollution in the home, and improve the overall feelings of wellbeing the even lower blood pressure and help concentration and improve memory.
Studies have found that when living plants are present indoors:

Anxiety levels are lowered
People recover from mental tiredness faster
Interiors feel spacious, looked after and clean
People occupy rooms more when plants are there
People perceive interiors as "more expensive" looking
Given a choice, people sit where they can see plants * (Oxford Brooks University Study 1995 )

All types of interior plants will help you relax and feel better, however there are particular varieties that are more effective. Boston ferns, rubber plants, weeping fig and peace lily, are a few that can dramatically improve air quality by removing formaldehyde from the atmosphere. Formaldehyde is one of the most commonly occurring chemicals and has been linked with asthma and other respiratory problems. It is emitted by gas cookers, as well as being present in everyday items such as tissues, carpet backing, ceiling tiles and cigarette smoke.

Spider plants are good for absorbing carbon monoxide, a spider plant in an enclosed area can remove 95% of the carbon monoxide from the air.

Dragon tree plants and dracaenas absorb many of the harmful emissions from computers, printers.

Hibiscus, Boston fern or rubber plants are natural humidifiers.

Amazingly, plants are not harmed by the absorption process and will continue to function as long as they stay healthy.
Some tips are:
Identify how much light and water the plant needs, and the ideal temperature - you will find this information on the plant care label.

Choose plants to suit the conditions in your home. Cacti, for example, are ideal for warm, sunny rooms while ferns or ivy prefer cool, shady areas. Don't fight your space, bringing a plant into less than ideal spaces will dramatically affect your plant.

Remember to give plants the right amount of water. The biggest mistake tends to be drowning your plant with love. Overwatering is just as bad as under watering.

Don't forget to feed plants regularly with an appropriate plant food.

Occasionally wipe broad, glossy leaves with a damp cloth to keep them clean. Mist plants that prefer High humidity to avoid leaves drying.

Take time for a chat with your plants - yes that's right and no you are not crazy- by talking to your plants you will be breathing carbon dioxide onto them, which they need to survive. In return, the plants will provide you with oxygen.
Question about plants in bedrooms?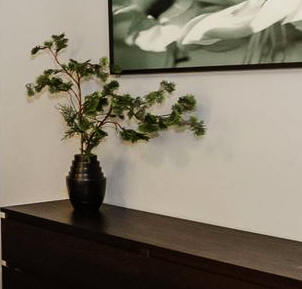 Many wonder about keeping plants in the bedroom. There is a reason why it is recommended to avoid keeping plants in the bedroom when you sleep in particular in non loft like bedrooms or for those who sleep with the door closed in the evening with no source of fresh air. Light is the initiating factor in the process of photosynthesis. This is where plants convert energy from light to change carbon dioxide and water into oxygen and glucose. This part of the plants process is for it's own survival and growth and we benefit from this process in their ability to produce fresh oxygen for us and clean the air. However when there is no light in the room this process ceases and in the evening this process reverses where plants "breath" or in other words reverse photosynthesis occurs where they burn carbohydrates and oxygen like humans and produce carbon dioxide instead. People often ask about plants in the bedroom, the answer is during the day they are fine but as the light diminishes and into the evening they are actually breathing in the air from the room depriving you of it, this is especially true for those who sleep with their doors closed. For those who would like the benefit of clean air in the bedroom it is suggested you remove the plants in the evening from your room or alternatively open window in the evening to allow for fresh air to enter your space while both you and your plants sleep at night.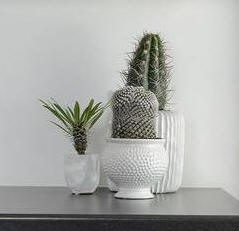 "Plants are the young of the world, vessels of health and vigor; but they grope ever upward towards consciousness...:
Ralph Waldo Emerson
---
As an eco-focused and socially responsible studio, we offer unique artistic floral designs, living botanical arrangements and a wonderful selection of premier chocolates for delivery or pickup.
info.at.thechocolatetulip.com 1251 YONGE ST. TORONTO ONTARIO M4T 1W6 TEL 416 921-5559
Delivery & Order | | Contact & Hours | Order | Privacy Policy
Toronto Rosedale Florist, Delivery in Toronto and Surrounding area
Copyright © 2018 The Chocolate Tulip Floral Design Studio Toronto All rights reserved